Samsung SSG-2200AR is one of the most comfortable 3D glasses in the market today. While most 3d glasses provide the similar viewing experience, it is very important to choose from most lightweight 3d glasses with size optimization for long usage.
Samsung SSG-2200AR 3D glasses use Active Shutter technology which essentially provides more lifelike 3D experience for viewers. (see full specs here)

Active shutter technology blocks the left and right lenses in an order to show separate images that you will not even notice these shutters because it is much faster than blink of an eye.
Here is a useful article about the Active Shutter 3d glasses if you are interested in the subject for further reading.
Overall result is the creation of 3D image in human perception so much real than standard blue/red stereoscopic 3d glasses and in full color.
The operation is simple too. After you push the small button, it will automatically sync with the 3D emitter enabled TV. All syncing is under a second.
Charging is achieved by USB connection to a computer or TV USB slot. The package includes micro-USB to USB cable, protective carrying case (inside is soft), cleaning cloth.
SSG-2200AR uses rechargeable batteries and 2 hours of charge provides 30 hours of operation time.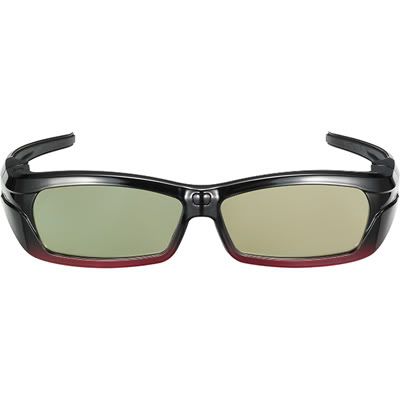 Compatible 3D HDTV and Player Models
2010 LCD C750 series
2010 LED C7000, C8000 and C9000 series
2010 PDP C7000 and C8000 series
2010 Blu-ray Disc player (BD-C6900) / HTiB (HT-C6930W)
There is only a minor issue with this item. Very rarely, you can notice that Active shutter confuses and shuts for a second, especially in ultra-fast scenes. But, it is neglectable and does not disturb the overall enjoyment.
Overall, Samsung SSG-2200AR 3D glasses are perfect choice for 3D home entertainment. Plus, it is a money-saver on the long run because you will not pay for batteries.
Remember that these glasses are for adults. If you are looking for 3d glasses for kids, check Samsung SSG-2200KR please here.