The number #1 player in Plasma TV market, Samsung has revealed new line of ultra-slim Plasma TVs on CES 2011. Samsung D8000 is especially impressive with its hardware specs and sophisticated 3D processing technology.
The new D8000 tv series features a Full HD panel with metallic bezel, somehow similar to previous C9000 models. But, as title suggests it is significantly thinner.
Other important features of D8000 plasma tvs are Real Black Filter tech and HyperReal engine. These are perfect to reduce on-screen glare.
Samsung D8000 also takes advantage of a touch-screen remote control which is a new innovative inclusion. The 3 inch LCD screen of the remote control can show what is playing on the plasma TV or from a connected other input.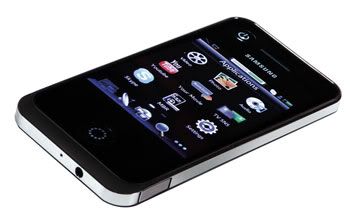 For us, it is good to know that new D8000 plasma tv series supports Samsung active shutter 3d glasses.
These new Samsung 3d glasses will use bluetooth instead of infrared connections. As a result, there would be less interruptions in the delivery of 3d content. They will provide more than 40 hours of battery time.
We will write a detailed review of new 3d glasses from Samsung soon.